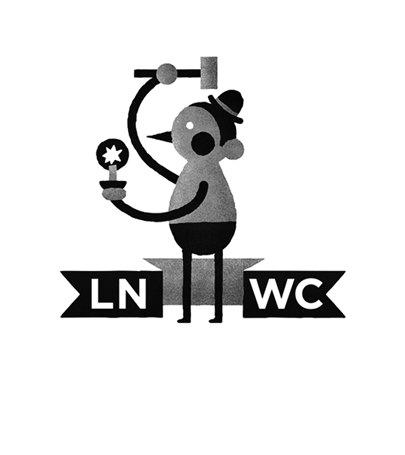 This year some of the industry's most talented independent animators teamed up and formed the non-commerical, short-film-making, uber-dedicated
Late Night Work Club
. If you haven't heard of the LNWC you definitely will once their first anthology, Ghost Stories, is released later this year. The LNWC gang may be working 24/7 but they have taken the time to post some behind-the-scenes clips and
one super tantalizing trailer of your indie animation dreams
. Scott Benson and Jake Armstrong - two of the collective's members - were happy to answer a plethora of questions so that we can all learn more about who & what the LNWC is and get even more excited for its impending completion! Here's what they said...
NK: Without giving away too much, what is LNWC in a nutshell?
Scott: LNWC is a loose collective of animators. It's an excuse bring a bunch of us together to make cool independent stuff, and kind of an imprint under which to release that stuff.
Jake: Scott answered that pretty well. I agree.
What sparked the idea for LNWC and how did it evolve from a concept into something tangible?
S: The idea originally came up between a few of us because we would always be up late working on things and we'd bump into each other on twitter. So I started calling it late night work club to make it kind of official and less lonely. So there's the name. Charles Huettner and I in particular live a long, long way from any sort of animation community, so we might as well have been making our stuff from Pluto and beaming it back to earth.
At the same time we were thinking that while these things exist for comics, music and games, there are very few places that gather together interesting independent animators into one space, outside of a few festivals that most people will never be able to attend. So the idea was to create something that really got behind the kind of animation many of us do just because it's what we do- no budget, independent, non-commercial work.
From there it was just a matter of reaching out to others to see if it was a good idea and, apparently, it is.
J: Since I didn't come up with the idea, I can't answer this very well. But what I can say is this:
I got into LNWC because I at one point found Charles Huettner on Tumblr and we started talking. Later, I used a Photoshop animation tutorial he'd linked to that Alex Grigg made, and I think I found Scott's work somewhere in there as well. Charles eventually emailed me in that massive group they emailed and since I had been needing something like this to snap deadlines in my face, I agreed immediately.
I'm so excited for this anthology! Not only is it jam-packed with quality animation but I think the concept and execution of LNWC is very unique.
You seem to be doing things differently from the status quo in terms of creating and collaborating on original animated content and making it easily accessible to everyone. Was accessibility a major priority going into LNWC?
S: Accessibility is a big component of it. Making it available to anyone, from someone in London to a kid out in the middle of Wyoming to hopefully get them excited about some of the artists and excited to make their own stuff. Nothing we're doing here is groundbreaking on it's own, but I think the context we're doing it in is somewhat novel in animation circles.
J: I agree with Scott completely. I grew up in Oklahoma, and there was one film festival that happened two cities away, and never got to go. As a kid and teen, you always hear about Oscar nominated shorts and, well, that short films even exist. I never saw anything that didn't hit the mainstream until I was in my 20's, and I probably am a little bitter about that. I love festivals and TV, but I don't know if I'll ever condemn my personal work to only being for a select few to see. Personally, I don't think this is a unique project, and I hope that more collectives out there can prove me right.
Did you have any goals - artistic, mental, career-oriented, etc. - going into the project?
S: Make something cool, get to know some other animators, introduce people to different animators' work, get people excited about independent online animation.
Personally I just wanted to make something awesome. It certainly wasn't for the massive monetary profits.
J:
My reason was purely selfish. I made a film a while ago and feel like I'm still characterized by just that one work. I made that film in a collective school scenario, so when this came along to have a support group and solidarity, I jumped at the opportunity. In the long run, I feel like I've made some good friends here, as well as making a film.
A sneak peek of Scott's film
Has your initial vision for your piece or the LNWC itself changed as the project evolved?
J: Most definitely. Erin and I have probably written and storyboarded 3 totally different films. We are now sitting on one that's not really funny at all, and I think we're pretty happy with that.
As the name implies you all probably have other stuff going on during the day. Are you or were you juggling multiple projects while working on LNWC?
S: I don't think there is one of us who isn't super busy right now at a studio or as a freelancer. We're all constantly under the gun.
J: Yup. I started working at Augenblick on a long gig right after the LNWC gun fired, and I'll be at the job for another few weeks.
How do you find the time and motivation to do everything?
S: I can only speak for myself, but I couldn't really stop if I wanted to. I do client work to pay rent and fund my noncommercial work. I think I'd just die like a shark in captivity. They die sometimes I think. At least the Great Whites do maybe?
J: I am SO TIRED doing all these projects at once. I wish I knew how to divide my time better, but I'm so thrilled I'm working on two pretty amazing projects, so that keeps me going.
Have you learned anything - about your art, production, the meaning of life, etc. - while working on LNWC?
S: Ha. Get back to me when it's done and we'll see!
J: I only wish I had a script written beforehand. We spent so much time developing story that we barely have any time to animate it. But that's a tiny thing. I'm just glad I'm making stuff.
Any humans, places, or inanimate objects that influenced your work on this project?
S: I'm not sure. My cat maybe? He's very influential.
J: Totally. I have a lot of rad-ass friends that cheerlead me on and give me the most valuable critiques in the universe. Namely, Fran Krause, Kat Morris, Aleth Romanillos, Alan Foreman, Barbara Benas have been giving me many welcomed and unwelcome notes that are all making this project much better.
Which software did you use for animating and colouring your LNWC piece? Are any of the shorts in the anthology non-digital?
S: I do most of my work in After Effects, but different members are using everything from Photoshop to stop motion to pen and paper. We're covering a few bases.
J: Um, I use Flash to animate characters. Erin uses Photoshop for backgrounds, and I used that and Bridge for some storyboards. We're comping in After Effects. Sound in Protools. Editing in Final Cut and Premiere somewhat simultaneously. I use Firefox and she uses Chrome. Spotify is always open on all computers. I did many passes of the boards in sketchbooks, and sometimes the good old post-it notes on printer paper. I'd say we tend to use everything.
What are your plans for LNWC post-completion? Are there any intentions to submit the shorts to festivals?
S: The plan is to do some fests and a some other screenings in different places.
J: NYC screening! Gonna do it this summer, though you probably will have already seen it online already. It's always better on the big screen.
Does LNWC plan to band together to create more anthologies in the future?
S: That's the idea at this point. Different project, different theme, some different faces. We'll see, that's a ways off.
I'm such a huge advocate for people who work on personal projects and experiment with their art outside of their day jobs. I have no doubt that LNWC will inspire a lot of people to pick up their shelved projects and see them through. We might even start seeing LNWC-esque anthologies start popping up globally. Is there anything that you hope for the animation community - especially young, up-and-coming animators, to take away from LNWC?
S: I kind of hope people get inspired and totally rip this off, or at least the ideas behind it. Make your own thing, make it well, do it right. Do it by yourself or get together with some friends. You don't have to do a group project, but I think we should all really try to support one another. New voices are always welcome.
J: I hope so. I even have some friends who are trying to do it too. But I think they aren't cracking the whip on each other enough. I'd say try to do this with some people you don't know so you have no idea if they're working or not. I probably woulda wussed out long ago if I didn't think every minute that everyone were pretty much done with their films already.
Finally, any information on how and when LNWC will be available to the masses?
S: Ghost Stories will be released online this spring. We'll have more specifics as it gets closer, so stay tuned to our site/twitter/tumblr for updates.
J: OH GOD SOON